I love the "motivational/demotivational" format for graphics, but rarely ever see any Canadian Prime Ministers quoted. Which is a real shame, as we've had some smart men in the top office in Canada. So, I'd like to whip up a few, starting with John Diefenbaker. Click for a larger version: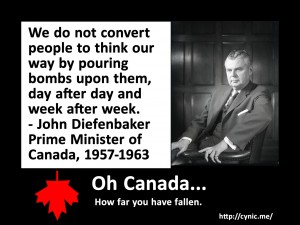 The image is actually quite large, so you may want to resize it. Feel free to pass it on.
I've put an upside-down maple leaf there to symbolize the distress that Canada is in. One only casually glance at Stephen Harper to see just how dire the situation is for Canada.
Cheers,
Ryan