A brilliant quote from William Lyon Mackenzie King, the 10th Prime Minister of Canada, and the longest serving Prime Minister. Click for a larger version.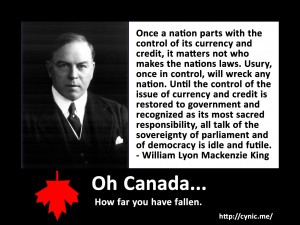 Once a nation parts with the control of its currency and credit, it matters not who makes the nations laws. Usury, once in control, will wreck any nation. Until the control of the issue of currency and credit is restored to government and recognized as its most sacred responsibility, all talk of the sovereignty of parliament and of democracy is idle and futile.
– William Lyon Mackenzie King
This goes right along with the Frackin' Reserve software and series of articles that I wrote.
Feel free to pass this on, along with the software too. There is a Windows only version, a web version, and a Linux/OS X version as well.
The more we help people understand what is really going on in the world, the sooner we can depose the globalists and banksters.
Cheers,
Ryan