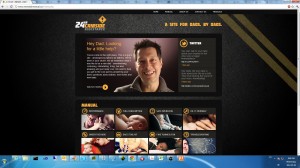 Waste and government seems to go hand in hand, but sometimes the level and scope can be simply baffling.
I recently found a beautiful site with some interesting information for new dads – 24 Hr Cribside Assistance:
The site is extremely well done. It has 36 videos that range in length from about 40 seconds to about 4 minutes long. The videos have excellent production value. The web site itself is beautiful and has some good information. However… that's not the interesting part…

I wondered who would do a site like that. It had no ads and nothing for sale. Zero revenue generation. Odd… very odd…
So, I checked the contact and about us pages. Turns out that the site is done through the "Canadian Father Involvement Initiative", which is funded by the Public Health Agency of Canada.
So how is that waste?
The videos have a maximum of 27 views each (as of the time I viewed them). And they were uploaded a year ago. So they've managed to get about 2 visitors per month to view the videos. Wow. That's a spectacular failure.
It's hard to fault the site for any lack of production value. It's well done. But it's like those Chinese ghost towns. The Chinese government builds cities, but nobody lives there. They spend money for nothing. And the same goes for this site that has no traffic.
The site would be better done as a blog or a news site. At the moment, 24 Hr Cribside Assistance is nothing more than an unused (micro)site. It's a shame as it could have been so much more with a well thought out plan for it.
But the site does have a blog:
http://bestjobontheplanet.wordpress.com/
The last few posts are from:
MAY 4, 2012
JANUARY 3, 2012
DECEMBER 21, 2011
DECEMBER 5, 2011
NOVEMBER 17, 2011
OCTOBER 4, 2011
SEPTEMBER 21, 2011
That's 7 posts in 9 months. Not very active.
They also have a Twitter account:
https://twitter.com/#!/newdadmanual
It is much more active than the blog, but it's still really not very active, and doesn't seem to have much to say. Most are quick suggestions with no explanation or link for further reading, e.g. as in a link to a blog. 😉
The whois information says this:
Domain name: newdadmanual.ca
Domain name status: registered
Creation date: 2011/02/23
Expiry date: 2013/02/23
Updated date: 2011/02/23

Registrar name: (10dollar.ca) 10 Dollar Domain Names Inc.
Registrar number: 1064689

Name servers
DNS 1 hostname: dns2.stabletransit.com
DNS 2 hostname: dns1.stabletransit.com

% WHOIS look-up made at 2012-05-09 11:11:01 (GMT)
%
% Use of CIRA's WHOIS service is governed by the Terms of Use in its Legal
% Notice, available at http://www.cira.ca/legal-notice/?lang=en
%
% (c) 2010 Canadian Internet Registration Authority, (http://www.cira.ca/)
So, it was sometime on or after February 23rd, 2011, or just a little over a year ago.
Who.is also has this information (click to zoom):

Not very encouraging…
And even worse:

The site isn't even hosted in Canada! It's in the US! Why would you pour government money overseas like that?
While it looks like a good idea, and has lots of potential, it's basically an abandoned site with no traffic. It's government money spent for nothing. Web sites are only as good as the amount of traffic/value that they deliver.
Cheers,
Ryan