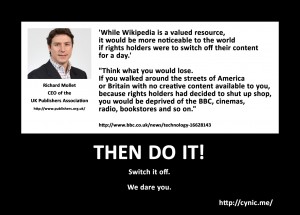 Hopefully you've been following the SOPA/PIPA debate… In a recent BBC article Richard Mollet, Chief Executive of the Publishers Association, talked about how little value Wikipedia was and how noticeable and dramatic it would be if "rights holders" had a black-out. From the article:
Echoing the statements of rights holders in the US, Richard Mollet, chairman of the Publishers Association, criticised the blacked-out websites for not engaging "constructively" in the piracy debate…

He argued that while Wikipedia was a valued resource, it would be more noticeable to the world if rights holders were to switch off their content for a day.

"Think what you would lose.

"If you walked around the streets of America or Britain with no creative content available to you, because rights holders had decided to shut up shop, you would be deprived of the BBC, cinemas, radio, bookstores and so on.

"What's at stake when rogue internet sites are available to people and revenues are deprived is a great deal more than the excellent but nevertheless more limited Wikipedia."
Well then, DO IT!
See how people react. There are many alternative media sources out there. Their shoes would be filled before the day was done.
Please click the graphic above – download it – share it. Let's see if these guys have the balls to follow through.
Cheers,
Ryan