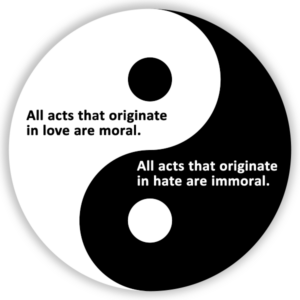 Well, it's Christmas, and it occurred to me that "what is right" and "what is wrong" are far too often more shades of gray than anything else.
One of the only remotely sensible options is Immanuel Kant's Categorical Imperative. This has problems though, with the most often cited problem running along these lines:
You're living in Nazi Germany and are harbouring Jews to save them. A Nazi officer knocks at your door and asks if you have any Jews inside. You can lie or tell the truth. If you lie, you've violated the Categorical Imperative that you not lie. If you tell the truth, the Jews will die.
There's no good solution to the dilemma there. You're damned either way.
I think I've come up with a reasonable, although simple, solution to the moral problem. I'm not flushing out some details here as they're mostly details, e.g. we're assuming that you're sane and rational, and not completely crazy. I'm also ignoring the actual action, as I don't think that the action is really all that important. We're talking about the morality of actions, and so any action will do. Also, I'm ignoring acts that are neither moral nor immoral, e.g. deciding whether to have an apple or banana with  lunch.
All acts that originate in love are moral.
All acts that originate in hate are immoral.
It's simple, elegant, and I haven't thought of anything yet that is a problem for it.
Here's a test with a typical example used in philosophy classes in university:
A group of people are trying to escape from a repressive police state. They're near the border, but hiding until they can run across to freedom. Among them is a young woman with an infant. The infant begins to cry. The young woman tries to comfort the infant, but it doesn't stop. The guards will hear if she doesn't quiet the infant, and everyone will die. She covers the infants mouth… but the only solution is to suffocate it or they will all be caught and killed. She suffocates the infant and saves everyone from the guards.
It's a horrid thing to kill your own child. Under the Categorical Imperative, she's committed a sin. But really, can we blame her? Can we say that she sinned? That's very difficult to do. She has saved everyone she is with, at a terrible cost to herself. Her act comes out of love for the people with her, and not from a place of hate.
Those that love laws won't like this at all. But then again, I didn't say this was about laws. I said it was about right and wrong.
Anyways, I humbly submit this as a different way to look at right, wrong, morality, and immorality.
Peace and Merry Christmas,
Ryan