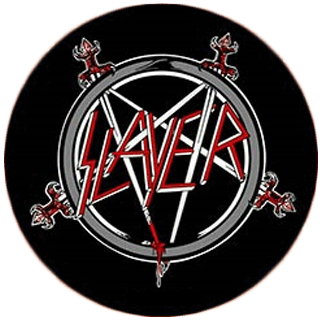 Well, got to see Slayer here in Melbourne. They were pretty good. The only thing on the stage was an elevated drum kit and 2 massive walls of Marshal stacks.
At one point early on, Tom walked up to the front of the stage and motioned for people in an area behind me to pick someone up. I guess someone fell.
But the crowd was crazy! I was right up at the front (1 person in front of me). I wonder how many people had cracked ribs afterwards, because the pushing was nuts! At least I know what it feels like to be in a compactor now. There was a non-stop flow of people overhead crowd-surfing! (Quite literally non-stop.)
Just before Slayer came on stage, a massive number of security people showed up with a ton of photographers. The security were mostly there to help crowd-surfers down in front of the stage.
They had a great set list, especially as they only had 1 hour to play:
World Painted Blood
Hate Worldwide
War Ensemble
Postmortem
Hallowed Point
Americon
Payback
Mandatory Suicide
Temptation
South of Heaven
Raining Blood
Black Magic
Angel of Death
As you can expect, the crowd went abso-fucking-lutely berserk from start to finish.
Anyways, here are some pictures from the concert. I took a truckload of them, but very few turned out well enough to bother posting. (I had to surrender my camera battery for our Nikon D5000 when I entered. Luckily I had our Canon Ixus 200 IS as a backup.)
Click through the pictures for larger versions (1024×768):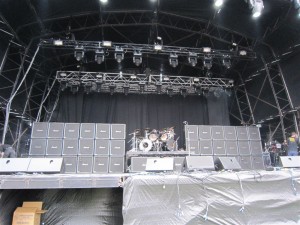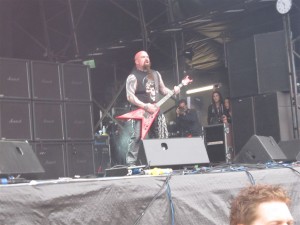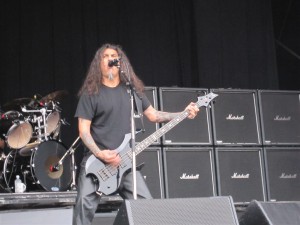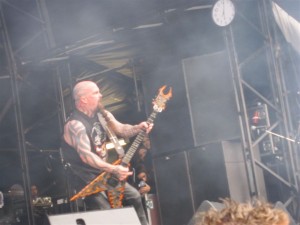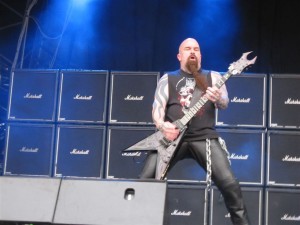 In the next picture, you can see Gary Holt of Exodus on the far left. He played for Jeff Hanneman because Jeff was quite ill with necrotizing fasciitis.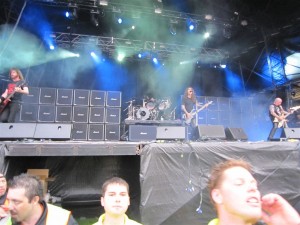 Here's a better picture of Gary: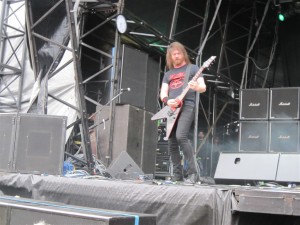 Gary simply ripped it up. He was spot on amazing.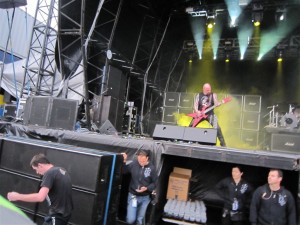 Unfortunately, those were all the pictures that turned out semi-decently. Most of the others were either horrible or slightly out of focus. A lot are OK to look at on a single screen without zooming to full resolution, but… sigh… Being nearly crushed and constantly being hit, it was simply impossible to keep the camera still.
Anyways, they played very well, though they could have had more presence than they did. Rob Zombie and the Murder Dolls put on a better show in that regard. Tom did have some presence, but, still, I expected a bit more. Half the concert is in the front man and how they can get the crowd going. I suppose it's simply Slayer, and they don't really need to have that much stage presence as their music does it for them.
Then again, had Tom got the crowd going much more than they already were, I'm quite certain that there would have been a significant number of people injured! (Literally.)