Well, I've spent the better part of 2 individual days doing submissions with some final submissions on the morning of a 3rd day. So, that's the time investment.
Now, Photo Resizer ranked absolute zero prior to the submissions, so anything that's in the search engines now is purely because of the submissions that I've just finished.
A quick note before I get into it, I did a significant amount of work, but have not gone over my submission list to resubmit for stragglers or missed sites. I went through the list once. Some sites I skipped, and some I found didn't work initially so I abandoned any further effort on them. In short, I went through the list quickly.
So far there's only 1 result in the top 100 for Super Simple with the keywords "photo resizer" in Bing at position 58: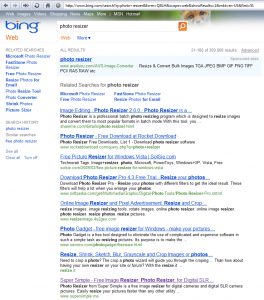 So, for the same keyword , Super Simple turns up for the second click™ at positions:
91 in Google (and 94)
74 in Bing (and 94)
69 in Yahoo (and 93)
So, for having finished my first quick round, that's not too bad.
Here are some screenshots. The first has second click results at #91 and #94 in Google: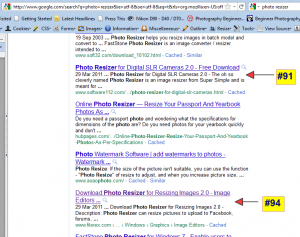 Bing at #74: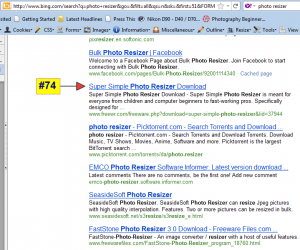 Yahoo at #69:
Those are all "second click" results. By "second click" I mean the result points to the product, but it is on a different site.
The results are much different that they would have been in 2003 or so. At that time 50% to 95% of the top 100 results would have been second click results. So the landscape is much different than it was. Even just 2 or 3 years ago I could have results in the top 100 easily within hours.
I had a look for screenshots from a few years ago, but didn't find the ones I was looking for. The results were pretty disgusting with almost every result being a second click one.
In any event, for a brand new site with one round of promotion, that's not too bad. It will improve over the next few weeks though and more second click results will creep in as well. As for the main site, that takes some time to climb up in the ranks, especially as it's new. But, a bit of patience and a little more work will get it up there.
For an established site, it's much faster and you get better results. Also, with multiple products, the results keep getting better and better. It's not like 1+1=2; it's more like 1+1=10. Once I manage to get some more software up there, first round results like this will improve.
I'll post back with more results later on.