A friend has just launched a new web site service that lets you securely store all your online accounts and passwords for in the event of your untimely death. iDeparted.com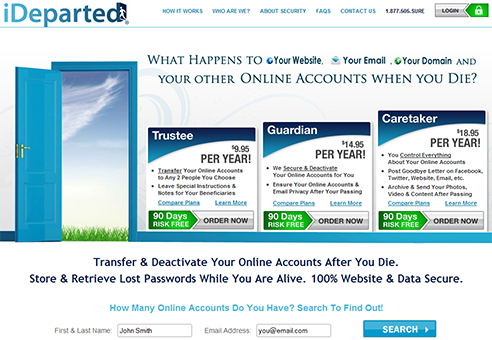 Here's a quick tag from iDeparted.com:
Transfer & Deactivate Your Online Accounts After You Die.
Store & Retrieve Lost Passwords While You Are Alive.
And a quick explanation about what it is and can do for you:
iDeparted provides you with highly secure storage for your private online account information and personalized features to help you plan for the unexpected. Transfer all your online accounts to someone, Deactivate them instantly or Control each of your accounts after you pass away.
A close friend of mine died very suddenly and unexpectedly, and this would have solved a LOT of problems for his wife.
UPDATE 2011-10-04:
It looks like iDeparted has departed. It is no longer up and redirects to another site.