I've been having an absolute BLAST with Dogecoins today. It's a new alt coin (alternative crypto currency) and right from the get-go it barks up a happy storm. The official site is here:
However, quite often the original Bitcointalk thread is where all the real information is for some crypto currencies:
https://bitcointalk.org/index.php?topic=361813.0

The thread itself is hilarious and full of people posting "in character".
Now, I'm certainly not one to beg, but I couldn't resist begging for DOGE. How could I resist? A dog-themed coin? Not beg? Inconceivable!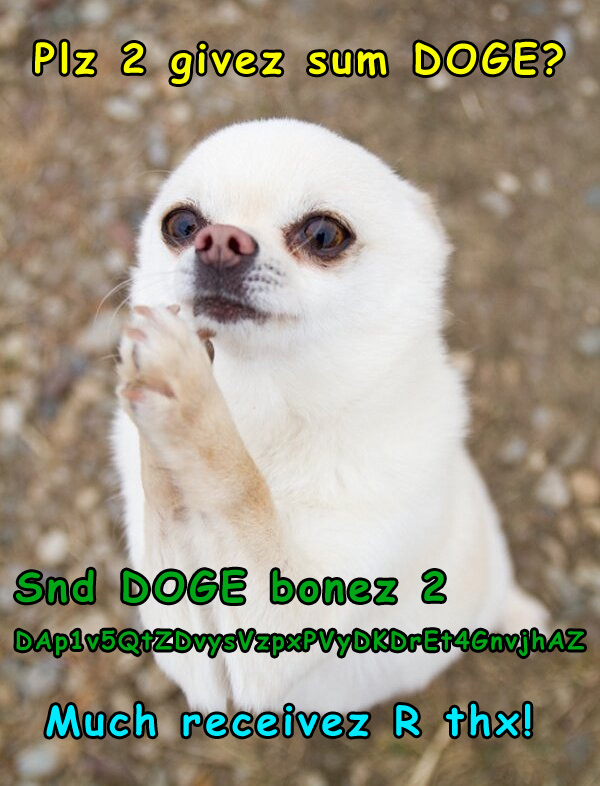 The wallet itself is insanely fun as well: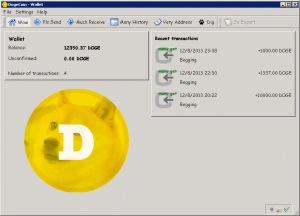 As you can see, the DOGE miners are very generous in giving out to those that beg.
And the "Much Receive" tab: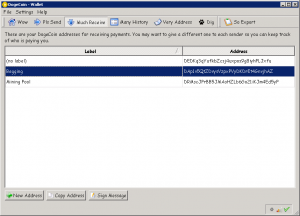 Note that the mining tab is named "Dig"! So, just like a dog digging in the yard, you "dig" for DOGE bonez!
Much History? This is one seriously funny coin, and I think it will catch on with quite a few people because it's just all that much fun!
There's already a forum for the coin here:
And while there are several mining pools, here's one that I've tried out:
I'm doing CPU mining with older machines, and it's turning out pretty well. You don't need massive GPUs to mine it, though it helps as you'll mine a lot more. There are some seriously heavy-duty miners active on it right now with some serious setups. My 50 KH/s is dwarfed by the fellow at the top mining at 8,622 KH/s. So, while I'll not be a DOGE millionaire, its fun.
For those that are more profit oriented, people are buying DOGE for 0.1 BTC per million DOGE. If you check how many hashes you need to mine DOGE, it's extremely good. So, whether you mine for profit or for fun, check out DOGE.
Enjoy!